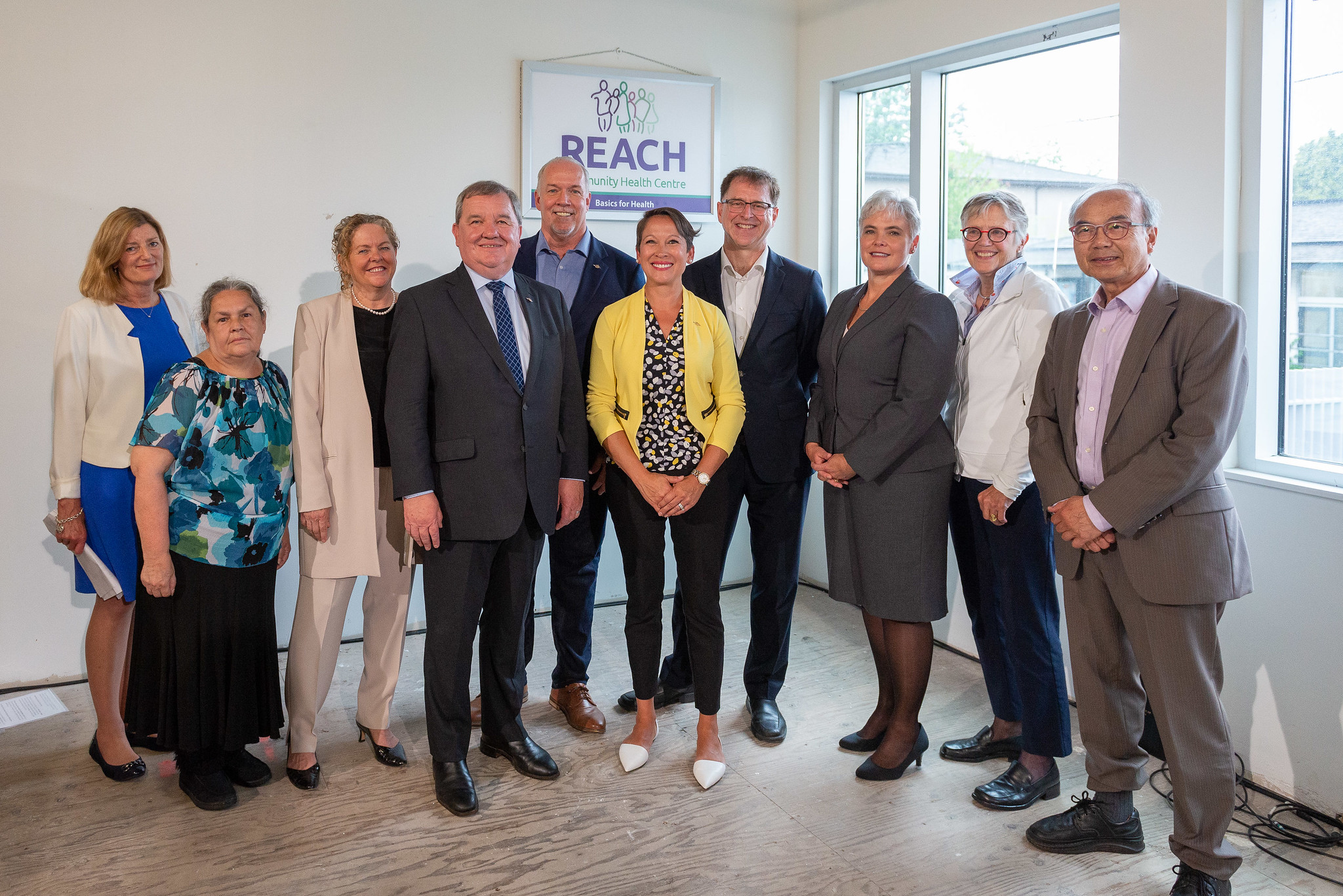 People living in East Vancouver will have better access to team-based urgent and primary care with the opening of the new REACH Urgent and Primary Care Centre (UPCC).
"The Reach centre will help connect more people in East Vancouver and the surrounding communities with the health care they need, when they need it," said Premier John Horgan. "For people who have been struggling to access health care services, this will make a big difference in their lives."
The REACH Urgent and Primary Care Centre is the second UPCC to be announced in Vancouver and the ninth to be announced in B.C. under the government's primary care strategy. The new UPCC is a partnership between the REACH Community Health Centre, the Ministry of Health, Vancouver Coastal Health, Providence Health and the Vancouver Division of Family Practice.
"Reach is among the most established community health centres in the province, supporting East Vancouver residents for 50 years," said Adrian Dix, Minister of Health. "Through this partnership, tens of thousands of area residents who currently lack a primary care provider will benefit from increased access to same day and ongoing primary care. The REACH UPCC also reflects one way how our primary care strategy is leveraging the community health centres to expand primary care services."
The REACH Urgent and Primary Care Centre will provide care for more than 37,000 additional patients each year who will be seen by a team of health-care providers, including doctors, nurse practitioners, nurses, licensed practical nurses, social workers, a clinical pharmacist and office staff.
The centre will serve two purposes. The first purpose will be to provide care for people with non-life-threatening conditions who need to see a health-care provider within 12 to 24 hours, but do not require an emergency department.
The second purpose will be to help attach patients to a regular primary care provider. To facilitate this, the centre will attach patients to health-care providers at Reach, and will attach patients on an interim basis while they arrange for patients to be connected to other local practices.
The centre will be staffed to provide some urgent primary care services as of early August 2019, and will be fully operational and welcoming patients in its newly renovated space by October 2019. The centre will operate temporarily out of an existing space within the REACH Community Health Centre, then transition permanently to a new renovated space in the same building.
The clinic will be centrally located at 1145 Commercial Dr. in East Vancouver with proximity to public transit, a community medical imaging facility (for X-rays), labs and two pharmacies. One pharmacy is operated by REACH Community Health Centre and will provide extended hours.
Quotes:
Mary Ackenhusen, president and chief executive officer, Vancouver Coastal Health –
"Vancouver Coastal Health is pleased to be a key partner in enhancing access to care for more people. The new urgent and primary care centre, delivered with our partners at REACH Community Health Care, allows us to wrap health-care services around patients who need it within their own community and provide ongoing care and support in a way that will result in better and more responsive care."
Dr. Kathleen Ross, president, Doctors of BC –
"We look forward to the integration of the UPCC in hopes it will strengthen primary care in the East Vancouver area and ensure people there have access to the health-care services they need while also supporting a longitudinal relationship."
Dr. Fiona Duncan, physician lead, Vancouver Division of Family Practice –
"The Vancouver Division is excited to continue working to improve access to quality primary care for all patients. The UPCC serves patients who need access to care for urgent, non-life threatening medical conditions and will play an important role in supporting family physicians to continue to provide high-quality primary care in the community."
Jacqollyne Keath, board chair, Nurses and Nurse Practitioners of BC –
"Nurses and Nurse Practitioners of BC are pleased to see that the knowledge, skills and expertise of the entire health-care team will be utilized to improve access to health care for all British Columbians through urgent and primary care clinics. We believe that this approach will be pivotal in ensuring B.C. families can access health-care services, and we are excited to see the launch of another urgent and primary care clinic in B.C."
Nicole LeMire, executive director, REACH Community Health Centre –
"REACH Community Health has been providing health care to East Vancouver residents for more than 50 years. The new urgent and primary care centre will support our plans to expand our services to meet the health care needs of even more people who live and work in the community."
Learn More:
To learn more about the Province's primary health-care strategy, visit:
https://news.gov.bc.ca/releases/2018PREM0034-001010
To learn more about the Province's strategy to increase the number of nurse practitioners, visit:
https://news.gov.bc.ca/releases/2018HLTH0034-000995
To learn more about the Province's strategy to recruit and retain more family medicine graduates, visit:
https://news.gov.bc.ca/releases/2018HLTH0052-001043