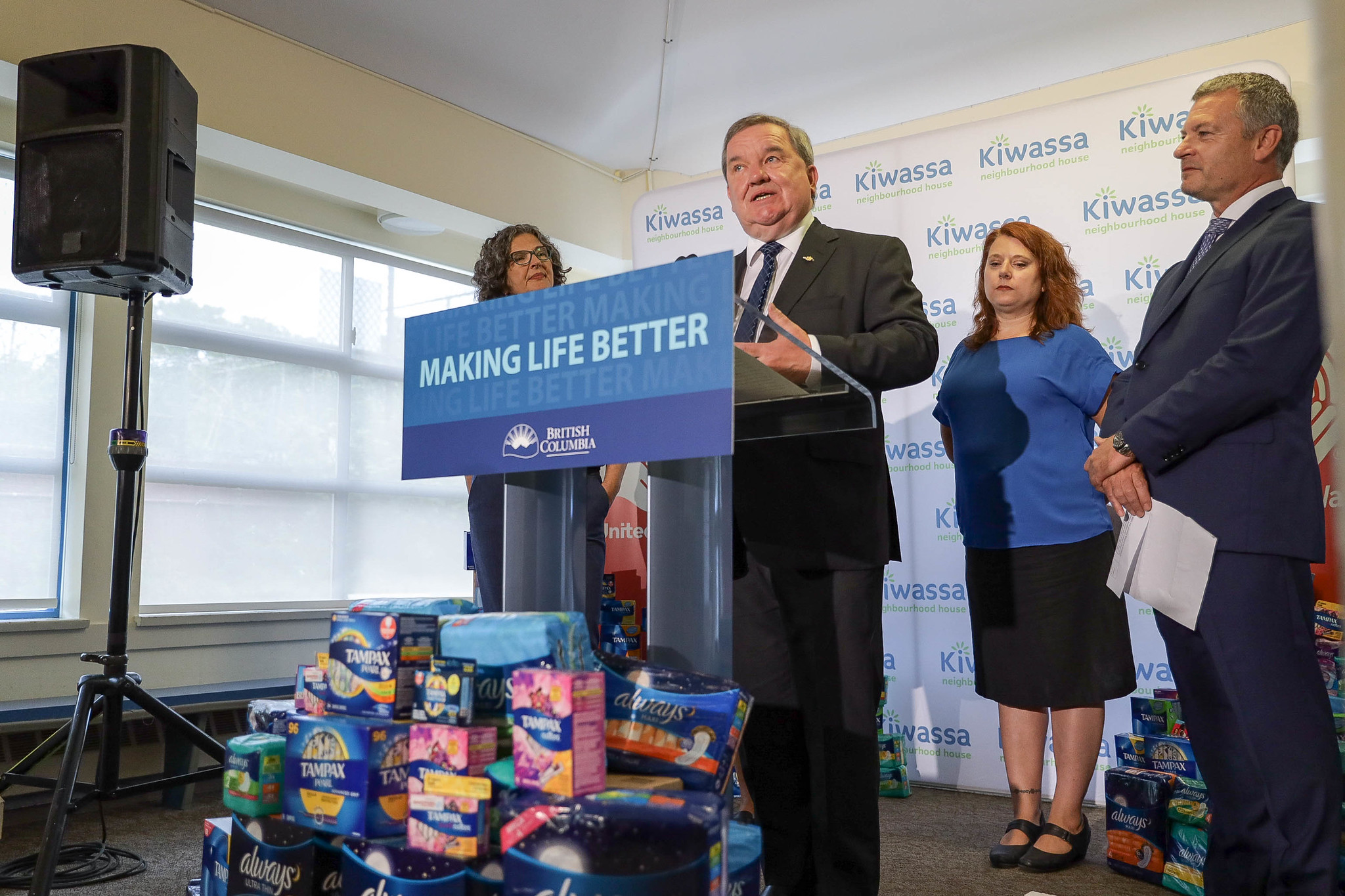 People will soon have easier, more affordable access to menstrual products with the launch of the United Way Period Promise research project.
Through a $95,000 B.C. government grant, the project will distribute menstrual products to 12 non-profit agencies that serve vulnerable populations throughout the province. The agencies will make them easily accessible to clients from July 2019 to July 2020.
The project will collect quarterly data on the number of people served and products used, how the lack of access to menstrual products because of financial limitations, known as "period poverty," affects people's lives and how addressing the issue can benefit communities.
"Period poverty creates barriers and stigma, and leaves people isolated," said Shane Simpson, Minister of Social Development and Poverty Reduction. "The United Way's project will use the knowledge and experience of local organizations already working closely with vulnerable people. This research will help us better understand how we can create solutions that will make a difference."
Always and Tampax have partnered with the United Way to provide menstrual products at a significantly reduced rate, allowing the United Way to increase the amount of participating non-profit agencies. The increase will broaden the project's reach and help the United Way create a more robust research report to assist in addressing period poverty in British Columbia. The report will be presented to government in December 2020.
The grant is part of a larger shift in government toward better supports and services for the people who need them most. It also aligns with TogetherBC, the Province's first poverty reduction strategy, with guiding principles of affordability, opportunity, reconciliation and social inclusion. This project demonstrates how government, the non-profit sector and the business sector can work together to find local solutions to complex poverty issues.
Addressing poverty is a shared priority between government and the BC Green Party caucus, and is part of the Confidence and Supply Agreement.
Quotes:
Mitzi Dean, Parliamentary Secretary for Gender Equity —
"Having a period is a part of life for more than half our population, and not being able to afford basic hygiene products can be devastating. Tackling period poverty closes the gap on gender inequality. By providing affordable menstrual products, those who menstruate will have the freedom to participate fully in life's activities."
Michael McKnight, president and CEO, United Way of the Lower Mainland —
"United Way is all about making our communities more accessible for everybody, and we're excited to work with the provincial government, community agencies and sponsors to help solve such a personal challenge that so many people face. The Period Promise research project is just one more way that we are working with a variety of partners to make where we live healthy, caring and inclusive."
Nikki Hill, co-chair, Period Promise campaign —
"The simple truth is that people who can't afford menstrual products are often going to community agencies to find them, and sometimes they just aren't available. The government's commitment to work with the United Way Period Promise campaign shows that they get it, and that they are looking for solutions that will make access to tampons and pads easier for everybody who needs them. Their leadership should be applauded."
Sussanne Skidmore, co-chair, Period Promise campaign and secretary-treasurer, BC Federation of Labour —
"For the BC Federation of Labour and the labour movement, working with the United Way on Period Promise has just been an extension of the work we do to make our province better. Period Promise is only enhancing our commitment to helping vulnerable people live and work with dignity across B.C., and we're proud to be involved."
Barbara Wood, board president, Kiwassa Neighbourhood House —
"This initiative and the Period Promise campaign help reduce menstruation stigma and contribute toward greater equality for women, trans and non-binary people. We hope that facilitating access to free menstruation products will reduce barriers faced by community members needing to access support and live with dignity. Thanks to the Ministry of Social Development and Poverty Reduction and the United Way of the Lower Mainland for leadership. Kiwassa is proud to be a part of this important initiative and sharing our learning on its impact."
Learn More:
Find out more about the United Way Period Promise campaign: https://www.periodpromise.ca/
Read TogetherBC: B.C.'s Poverty Reduction Strategy: https://www.gov.bc.ca/TogetherBC/
To read more about other poverty reduction grants this year, visit: